03:29
The London stock market has opened higher, with the FTSE 100 index of blue-chip shares gaining 26 points or 0.4% to 6766 points.

03:23
Kay Van-Petersen, global macro strategist at Saxo Capital Markets, reckons that Democratic control of the Senate "increases not just the probability of more fiscal (stimulus), but the magnitude."
He said (via Reuters)



"That means that this market should be way, way, way higher as a whole and we're going to get there. We're entering this regime of even more accelerated asset class inflation."
But… OANDA analyst Jeffrey Halley warns that president Biden's spending plans could face opposition in the Senate (split 50:50, with vice-president Kamala Harris holding the tiebreaking vote):



For all the noise about the Biden $1.9 trillion stimulus package that we are writing about ad nauseum, and the follow-on remake America spending the new President also wishes to enact, one critical risk remains and is being totally ignored by financial markets everywhere. That is the inclination of the Republican minority in the US Senate to bipartisanship. Their silence has been deafening until now on how cooperative they intend to be with the new President.

Certain aspects of the Biden stimulus plan, and his follow-on spending wishes will almost certainly require a 60-vote majority in the Senate under the Byrd Rule. Otherwise, they will enter reconciliation, piece by piece in Senate committees to work around the filibuster. The net result will be a long drawn out process and risks momentum being lost on the Biden plan. It should also be noted that some Democrat Senators are more right of centre, making controversial passages potentially challenging to pass even within their own party.
02:51
Introduction: Sterling rises as markets anticipate Biden stimulus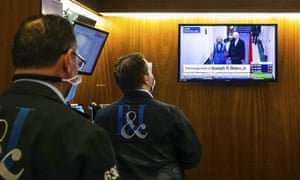 Good morning, and welcome to our rolling coverage of the world economy, the financial markets, the eurozone and business.
The markets are trading at record highs today on anticipation of a major new US stimulus package that will help drive the global recovery.
Stocks and commodities have rallied as the world watched Joe Biden sworn in as US president yesterday, giving a call for unity and urging Americans to face the pandemic raging across the country as one nation.
Investors are hopeful that Biden can now drive through his plan for a $1.9trn stimulus package, with the Democrats now controlling both houses of Congress as well as the White House.
As Jim Reid of Deutsche Bank told clients:



While much of the appeal was aimed at cooling the temperature of national discourse there was also a message to lawmakers of the need to cooperate more as Democrats only hold a slim majority in both chambers of Congress….

On the economic front, there were further support measures, including an extension of the pause on federal student loan repayments and the extension of the federal eviction moratorium.
Wall Street closed at a fresh peak last night – partly thanks to Netflix, which soared 16% after posting strong results earlier in the week.
European markets are set for gains too, after a solid day in Asia-Pacific bourses:
Associate Press has the details:



Japan's benchmark Nikkei 225 rose 0.8% to finish at 28,756.86. Australia's S&P/ASX 200 gained 0.8% to 6,823.70, while South Korea's Kospi edged up 1.1% to 3,147.51. Hong Kong's Hang Seng slipped 0.3% to 29,887.89, while the Shanghai Composite added 1.0% to 3,619.82.
This optimism has pushed the pound over $1.37, touching its highest level against the US dollar since May 2018 last night.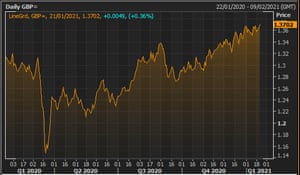 Sterling also hit an eight-month high against the euro, which is suffering as Covid-19 continues to grip Europe.
Michael Hewson of CMC Markets explains:



We've already heard in the last few days that Germany is extending its lockdown into mid-February, while curfews have been implemented in France and the Netherlands, while yesterday it was being reported that bars and restaurants in France were more than likely expected to remain closed until Easter, even under the most optimistic scenario.

This would appear to suggest even more economic pain in the weeks and months ahead, at the same time as the vaccine program gets off to a faltering start.
We'll hear from the European Central Bank today, plus get a new healthcheck on the UK factory sector.
We also get the latest US weekly jobless figures, which will show the ongoing economic damage caused by the pandemic.
The agenda
9.30am GMT: Bank of England's latest credit conditions survey
11am GMT: CBI survey of UK industrial trends
12.45pm GMT: European Central Bank interest rate decision
1.30pm GMT: European Central Bank press conference
1.30pm GMT: US weekly jobless figures
Updated