03:04
Across Europe as a whole, car sales slumped by over 24% last year — with almsot four million fewer new vehicles hitting the road.
Some 11,961,182 car registrations were recorded in total across the EU, the UK, and Iceland, Norway and Switzerland — down from 15.8m in 2019.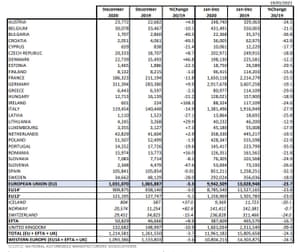 02:55
Europe's car industry only managed one month of sales growth in 2020, Bloomberg point out:



Carmakers managed to better cope with government measures to contain the spread of the coronavirus as the year rolled on, helped by subsidies and dealers embracing online-ordering tools.

But the collapse in sales in March, April and May proved difficult to come back from, with the industry managing a single month of growth all year. By contrast, China's auto market expanded throughout the second half.
02:37
Introduction: Europe car sales drop at record pace in 2020
Good morning, and welcome to our rolling coverage of the world economy, the financial markets, the eurozone and business.
Europe's car industry has suffered its biggest ever drop in sales, as the Covid-19 pandemic dealt an "unprecedented" to the sector.
Car sales across the European Union slumped by 23.7% last year, new data shows, the worst slump on record.
Just 9.9m new vehicles were registered in 2020, down from 13m in 2019, as lockdown restrictions hammered demand.
Industry body ACEA reports that:



Containment measures – including full‐ scale lockdowns and other restrictions throughout the year – had an unprecedented impact on car sales across the European Union.

2020 saw the biggest yearly drop in car demand.
Every EU country saw double-digit sales falls in 2020, ACEA reports. Spain posted the sharpest drop (‐32.3%), followed closely by Italy (‐27.9%). Sales fell by over 25% in France, and dropped 19% in Germany.
The worst slump came in March and April, predictably, when the coronavirus outbreak hit Europe's economy. But sales have remained weak since.
In December, new registrations fell by 3.3%, the third monthly decline in a row, as the second wave of Covid-19 forced fresh lockdown restrictions.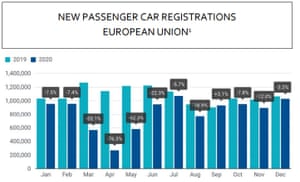 Also coming up today
European stock markets are set to rise, ahead of Janet Yellen's confirmation hearing at the Senate.
The Treasury Secretary noninee is expected to explain that – with interest rates so low – the US should spend heavily to ensure the economic recovery.
The Financial Times explains:



Janet Yellen will lay out the case for President-elect Joe Biden's proposed $1.9tn relief package at her confirmation hearing as Treasury secretary, arguing that "the smartest thing we can do is act big".

In prepared remarks obtained by the Financial Times ahead of her appearance before the Senate finance committee on Tuesday, Ms Yellen said the US risked "a longer, more painful recession" and "long-term scarring" if it did not move quickly to inject more government spending into the economy.
The agenda
10am GMT: ZEW index of eurozone economic sentiment
3pm GMT: Treasury secretary nominee Janet Yellen's Senate confirmation hearing
Updated